The APPrO 2014 Power Networking Show Guide is now published in print and online! Check out what's in store at this year's show: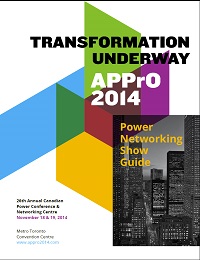 APPrO has distributed the Show Guide widely by mail, but if you haven't received your copy – check it out now online. Download it and print it in your office or contact us to receive a hard copy before the event. The Show Guide will be distributed onsite to each attendee.
APPrO 2014 Power Networking Centre
The 2014 Power Networking Centre is your best opportunity to connect with the key players and decision makers at the power generation industry's networking hub. We still have spots available but we're running out of time!
Or, attend the Power Networking Centre and access the industry's best networking opportunities, and attend the APPrO 2014 Technical Conference. This year's theme is Energy Storage and the speaker lineup is stellar. Get in on the action by participating in the "Speed Networking Event' taking place at the Technical Conference. Click here for current program information. Register now for the APPrO 2014 Power Networking Centre and the Technical Conference.
For personal assistance, please contact This email address is being protected from spambots. You need JavaScript enabled to view it. or at 416-322-6549 ext. 226