Power Networking Show Guide
The APPrO 2015 Power Networking Show Guide is now online! Check it out for a "sneak peek" of what's in store at this year's Canadian Power Conference & Networking Centre.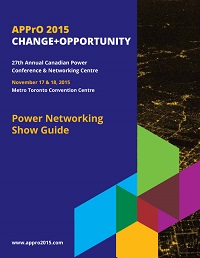 Get your company included in the APPrO 2015 Power Networking Guide
APPrO has published a final print edition of the Show Guide which has been distributed broadly pre-event and will be provided to all attendees onsite.

Put yourself in the action at the APPrO 2015 Power Networking Centre
The 2015 Power Networking Centre is your best opportunity to connect with the key players and decision makers at the power generation industry's networking hub. We are currently booking space. Many exhibitors have booked already. Don't get left out! Click here to download the Exhibitor Prospectus in pdf format. This document contains all the necessary links for registering your booth at APPrO 2015! View the online floor plan and choose your location now!
Increase your show presence at APPrO 2015 and beyond
In tandem with your turnkey exhibition booth, we offer several additional options for enhancement of your company's profile at APPrO 2015 including:
' Register by September 18 and get yourself listed in the print version of the 2015 Power Networking Show Guide
' Up your game with the 2015 Power Networking Exhibitor Power Pack marketing bundle add-on, which includes:
- Enhanced listing (75 words, logo and two sales contacts) in the 2015 Power Networking Show Guide
- Quarter page colour ad in the 2015 Power Networking Show Guide (electronic and print versions – dependent on deadlines)
- Profile on APPrO Social Media sites
- Discounts for advertising in IPPSO FACTO Special Bonus Distribution issue
- Listing in the Canadian Power Directory online with logo
- Promo space on the APPrO 2015 Delegate Kit (electronic format tba)
- Promo space on the APPrO 2015 Conference Proceedings CD
' Step into the Spotlight! Become an APPrO 2015 Sponsor! APPrO has targeted and customized sponsorship options with a wide range of benefits and prices for any marketing strategy and budget. Click here to find out more about becoming an APPrO 2015 sponsor.
' Go wide! Advertise in the Bonus conference distribution issue of IPPSO FACTO – reach APPrO's members AND all of the attendees at APPrO 2015. Special rates apply – see Prospectus for details.
For personal assistance, please contact This email address is being protected from spambots. You need JavaScript enabled to view it. or at 416-322-6549 ext. 226