Visit the Power Networking Centre
 More than a Trade Show
The 2016 Power Networking Centre is no longer your standard crowded grid-type event. This year APPrO moves up - to the 700 level at Metro Toronto Convention Centre. The re-visioned Power Networking Centre and the main session rooms are located in a single, contiguous area on the 700 level, a smaller more intimate space - easier to traverse, and more conducive to connecting, sharing ideas and doing business.
Access the Creative Disruption Symposium taking place inside the Power Networking Centre, and take advantage of the regular scheduled opportunities for networking - at coffee breaks, lunches and the Power Networking Reception! The Power Networking Centre provides ample networking opportunities in a comfortable setting over the course of this two day event. 
Please click on this link to check out the layout of the re-visioned online floorplan and see a list of our Power Networking Sponsor Exhibitors.
The APPrO 2016 Power Networking Guide – final version -  is now online! Check it out for a "sneak peek" of what's in store at this year's Canadian Power Conference & Networking Centre.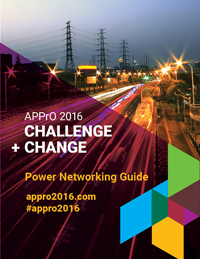 APPrO will distribute the final print edition of the Power Networking Guide to all APPrO 2016 attendees next week. 
Click here to view the APPrO 2016 Power Networking Guide
5 Reasons to visit the APPrO 2016 Power Networking Centre
 1. Capitalize on access to the largest concentration of power generators in Canada
 2. Meet new business prospects and reconnect with colleagues in a networking-positive atmosphere
 3. Visit a select group of sponsor exhibitors in a relaxed atmosphere
 4. Connect face-to-face with hundreds of power professionals and key industry players across all commercial technologies - all in one place at one time
 5. Get access to the Creative Disruption Symposium – learn about the new forces changing the face of the power sector
Attend the Power Networking Centre & Creative Disruption Symposium (day passes):
Advance (Available to Nov 11 at noon):
November 15: $150             November 16: $100                         Both days: $249
Onsite (after Nov 11 at noon):
November 15: $200             November 16: $150             Both days: $350
Please add 13% HST to all prices above.
Register for your Power Networking Centre day pass. Or for further edification, register for the full APPrO Conference!
For additional information please click on the links below:
APPrO 2016 Power Networking Centre interactive online floorplan
APPrO 2016 Power Networking Guide
Past APPrO Conference Participants
Video clips from previous APPrO conferences
Connect with APPrO 2016 on Social Media and participate in the program
Consider, comment + connect!
Check out some recently published articles from APPrO that people are talking about in advance of APPrO 2016:
How to put Ontario's power market on a faster track to economic efficiency
The massive challenge of re-electrification
New business models in the electricity sector
What the electricity sector will look like in 15 years: A panorama of projections
How quickly will transactive energy grow?
Background information on the conference:
APPrO 2016 - the 28th Annual Canadian Power Conference takes place on November 15 + 16 at the Metro Toronto Convention Centre, 700 Level. It's Canada's premiere power gen event, spanning all commercial generation technologies.
Participate in two full days of information sharing, learning & networking with the people that count in the electric power generation business. Check the program often for regular updates or This email address is being protected from spambots. You need JavaScript enabled to view it. to receive them right in your inbox!